Hello Valued Clients,

It's always amazing to us that even after a long relationship, many clients don't remember everything we can do for them.

As part 3 of our new website news, we want to introduce you to our Services Page. A complete listing with links to all of our areas of work that can save a client time and money: Video, event support, animation, graphics, webcasts, translations, medical production, printing and mailing services and more..


Our concept is simple.A team of highly qualified pros who work together with various specialties for one client.This can save a client's time and money It's easier than trying to find 2, 3 or more companies who can work seamlessly to complete one project. This has worked for us for nearly 45 years. Click below to go to our Services Web Page.

Broadcasting Services
Webcasts are the communication tool of the 21st century.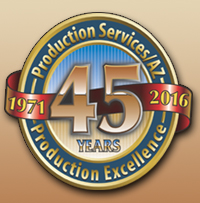 Whether we put it on the wire from your location, use the VYVX network in our studios, satellite or microwave it out to one of our locations, the goal is to reach your employees, clients and customers in a variety of ways.
Training
Recruiting

Marketing

Executive Messages

Intro New Products

Intro New Services
Continuing Education
Feed Showrooms and Waiting Rooms with your Corporate Image
Broadcasts can be Live Streaming or On-Demand